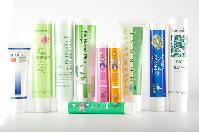 Click on image to view larger image
Extruded tubes from Kim Pai Lamitube.
We offer a range of extruded tubes for various personal care produts in the global market, including packaging for sunscreen lotions, hair care ointments, and a host of other skin care products. Food products and Household Care products also use our extruded tubes. Depending on the product type, we customize tubes for the specialist cosmetics industry. Kim Pai Lamitube uses machinery made by Breyer of Germany and printing machine from Polytype
Extruded tubes offer an alternative to Laminate Tubes, where customers prefer to use traditional tube construction and decoration.
Products Catalogue


Decorations : Silkscreen, Hot stamp, Matt or Gloss UV Varnish
Printing : Offset
Material : PE with EVOH, PE without EVOH
Barrier : EVOH
Diameter : 22, 25, 30, 35, 38, 50
Net Volume Contained : 10 – 250 mL.
Capping : Screw on Cap, Screw on Flip Top